Yes, I will admit it. I'm passionate about coffee. And I love to wear aprons. So I can combine my loves and wear coffee themed aprons. Not just any one though. I want the aprons that are fun to show off my passion for coffee. That's exactly why I chose these particular aprons.
Adding Humor to Coffee Themed Aprons
We all need a little humor in our daily lives. In fact, we need lots of humor. When I wear one of my funny coffee themed aprons, it puts a smile on my face. It's also usually gets a chuckle from anyone who sees it.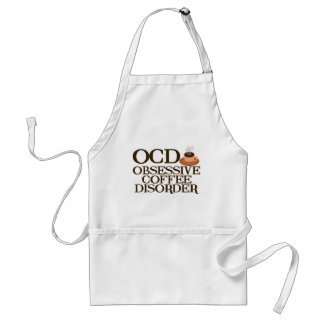 Funny Coffee Addict Apron
by
epicdesigns
See more
Coffee Aprons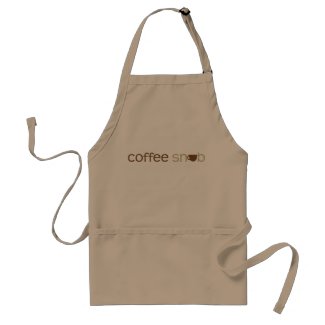 Coffee Snob Apron For Coffee Lovers & Barristas
by
cubiclewars
Look at Coffee Aprons online at
Zazzle.com
Functional and Fun Coffee Themed Aprons
Wearing an apron can be a matter of fun, of course. For me, they are also functional. No matter what work I'm doing in the kitchen, I don one of my coffee themed aprons. They protect my clothes from spills and splatters. That's a given. But these aprons do more.
They have big, roomy and handy pockets. That is just a must for me. I do like to have lots of things handy. When I'm trying out a new recipe, I like to have note paper and a pen handy. Notes about ingredients, changes, even little tweaks to the recipe get written down. These big pockets hold all that. And more.
When the grandkids are helping me with the kitchen chores, little toys find their way into my apron pockets. An extra tissue or paper towel tends to end up there, too. There seems to be no end to the stuff that will end up in my pockets.
Coffee Themed Aprons for Great Gifts
Any coffee lovers on my gift list will tend to get something related to coffee. One of these fun coffee themed aprons is an ideal gift. My oldest daughter has turned into a coffee snob. Well, like her mother. So I gave her an apron and completed the gift with a gourmet coffee sampler. She was thrilled!
It's More Than Just the Fun
Anything having to do with coffee is about good coffee. Even enjoying or sharing one of these coffee themed aprons deserves to have good coffee to go with it. So pick the kind of coffee roast that works best for your tastes. Next make sure to brew up the perfect cup of coffee. Finally, put on one of your coffee themed aprons and enjoy your coffee. Now that makes a great time.
Originally posted 2014-02-03 11:34:41.
---